If you need to take care of a pool table repair that needs immediate attention, or if you think there's a minor pool table repair that needs to be looked at.
Contact the professionals here at Pool Table Repair SOLO® in Tulsa!
We offer guaranteed professional pool table repair services in Tulsa Oklahoma and surrounding areas. Our team of pool table movers travels to other areas around Tulsa since most repairs are done within your home.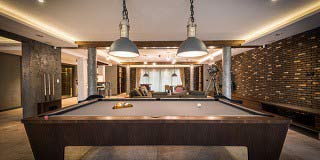 Pool Table Movers and Pool Table Repair SOLO® services also offer service in Broken Arrow, Sand Springs, Jenks, Owasso, Sapulpa, Bixby, Claremore, Okmulgee, Bartlesville, Muskogee, Ponca City, Stillwater, Coffeyville KS, Oakridge, Turley, Oakhurst, Grove, and more around Tulsa Oklahoma.
Professional Pool Table Repair SOLO® Services in Tulsa
Pool Table Repair Services SOLO® offers a great variety of billiard table repair services carried out by experienced pool table movers. We give our clients a risk-free service, and we are the only company in the area with the backing of a national organization.
This organization not only warrants the pool table repair services we offer but also the materials we provide for each service. Notably, the cloth provided for a pool table refelting service.
We offer Simonis billiard cloth as well as more economic alternatives.
For instance, when we take care of a complete pool table move, we will carefully disassemble your table, securely transport the components to the new location and have your pool table setup with precise leveling.
We guarantee this perfect level for a whole year, and in case your table goes out of level, we will return and fix it at completely no cost to you.
Why Should You Hire Professional Pool Table Movers?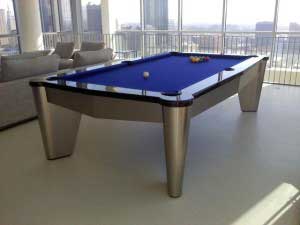 If you have purchased a nice billiard table you'd want skillful pool table installers to provide the service for you. For instance, if this table needs to be setup a professional team such as Pool table Movers SOLO® of Tulsa will use the proper tools and techniques to ensure an optimum installation. This involves precise shimming techniques according to the type of floor it will be installed on.
Each piece of slate will be leveled with an extremely precise level to ensure that your pool table installation will be 100% accurate and flat. Please feel free to check out our pool table dimensions guide page if you're still looking for the adequate pool table size for your game room.
The Pool Table Movers SOLO® Team has years of experience in the billiard table services industry. We are proud members of the American Billiard Installers Association and we offer a written document as a guarantee of our workmanship.
If you need carpet laid do not try to move your pool table! Sometimes this may seem like the best thing to do especially if you only need to move it to the side for a short distance. Again, do not attempt to do this, since this could cause permanent damage to the table or you could end up injured. Let us handle that 800 pound monster for you.
Contact the Pool Table Movers SOLO® of Tulsa for any Billiard Table Service Need
Hiring the Pool Table Movers SOLO® is hands down your best option to take care of your pool table repair or billiard table service. Below you will see a list of all the pool table services and pool table repairs we specialize in.
Services Offered by our Team of Pool Table Movers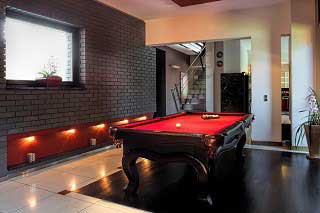 Pool table moves, complete and partial

Pool table refelting during installation or recovering of an already setup table (either with standard or worsted tournament grade cloth)

Pool table installations of brand new or used slate top billiard tables
Disassembly of your pool table, and setup from storage or when you replace the carpet (reflooring and remodeling).
Replacement of dead pool table bumpers or the cushions on the rails.
Why have your pool table professionally serviced?
There are a few different things that can cause a pool table to be unlevel. They are all pretty simple and a few of them can be fixed quite easily by an experienced pool table installer.
In our experience, the main problem with any type of pool table service is the do it yourself" moving or repair by the homeowner or buyer of the table. This is the main cause of problems with installation or even possible destruction or damage of pool tables.
We urge you never to attempt to take the legs off of a pool table and try to move it. We would never do this unless we were dealing with a certain type of pool table which is very rare so we advise you not to try it, not only do you risk damage to the table or property but also there is a high risk of serious personal injury.
It does not really pay to try and save money by moving the pool table in this manner.
Give us a call at Tulsa Pool Table Repair and let us set up your pool table correctly the first time.
Send us a message with specific details or simply give us a call!